Cedar Mill Farmers Market Brings Diverse Vendors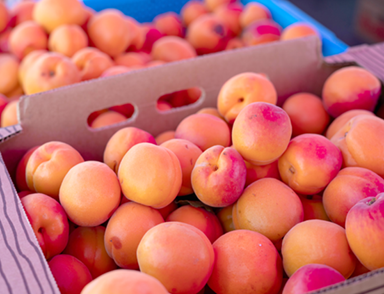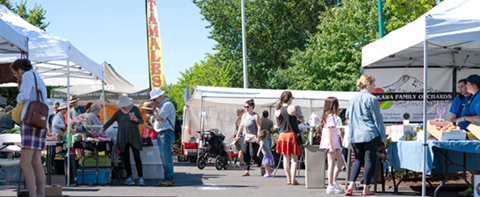 By Alan Zhou, CMN Summer Intern
The Cedar Mill Farmers Market is in full swing this summer, bringing together community members and local farmers every Saturday in the parking lot of the Sunset Mall. Founded in 1999 by Leilani Esping, the market has grown to include over 30 vendors, providing an impressive selection of fresh produce and artisan goods. The spirit of friendship is very much alive underneath each canopy.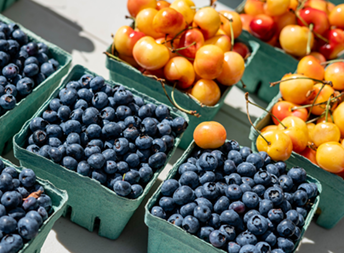 "We love to do this, because we know we're doing something good for the community," said Nicolas Amaro, owner of Granja Nuevo Horizonte in Gales Creek, OR. Along with his wife, Norma, Nicolas grows an assortment of seasonal vegetables, fruits, and herbs. They are proud to never use any chemicals or synthetic pesticides in their produce.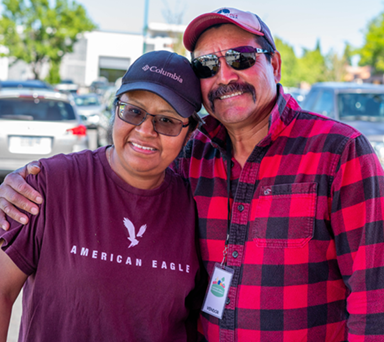 The Amaros have been vendors at the Farmers Market since 2009. They arrive at around 6 am to set up for the day, starting their business at 9 am when the market opens and closing down at 2 pm. For Nicolas, the best part about coming to the market is the opportunity to interact with its vibrant community. "We love to hear our customers!" he exclaims. "They're happy and they really appreciate what we do. I say it's like the gas for us to keep going."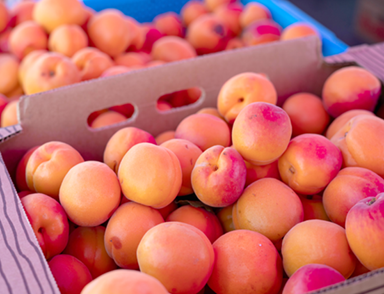 Across the aisle from them, Laura Cantwell shares a similar sentiment. She is a representative of Kiyokawa Family Orchards in the Hood River Valley. The farm is owned by Randy Kiyokawa, a third-generation orchardist whose grandfather emigrated from Japan in 1905. The orchards grow over 100 distinct varieties of apples, pears, cherries, and stone fruit.
Laura greets each patron with a smile and knows many of them by name. She is also in charge of the aquatics program at the Sunset Athletic Club, having worked there for over 20 years.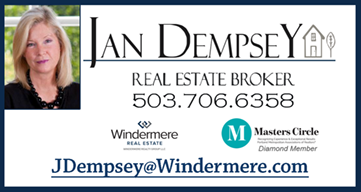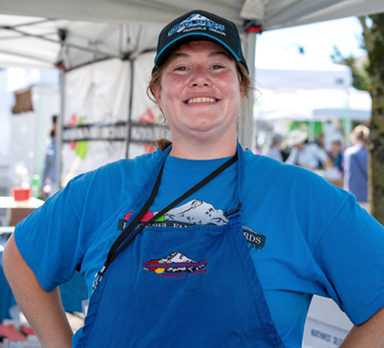 "I see a lot of kids [at the market] that I taught who are 18 now, and I taught them when they were five or three," Laura recalls. When the pools closed during the pandemic, Laura found a way to reconnect with her swim students through the Farmers Market. "When they see me on land, they're like, 'teacher Laura, what are you doing here!?'… and so it's been really fun and rewarding."
Debra Pearce of Nuts About Berries enjoys catching up with her return customers as well. "It's really good seeing the same faces year after year after year," she says. She and her partner Jon appreciate the cozy atmosphere of the Cedar Mill Farmers Market as it allows for a more personalized shopping experience. When the pandemic hit, their stand transitioned to a touchless format; elements of that layout were kept to prevent cross-contamination.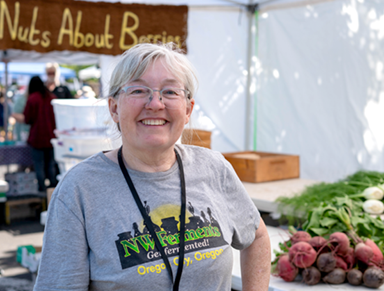 "We try to find types of crops that aren't represented by a regular vendor," Debra notes, pointing to an enticing display of amaranth and Kapoor Tulsi basil. The name Nuts About Berries comes from the fact that their farm in Scholls, Washington County was originally a walnut orchard with wild blackberries. Debra and Jon are committed to growing their crops—which they eat at home themselves—without spraying chemicals. They also take orders year-round on their website.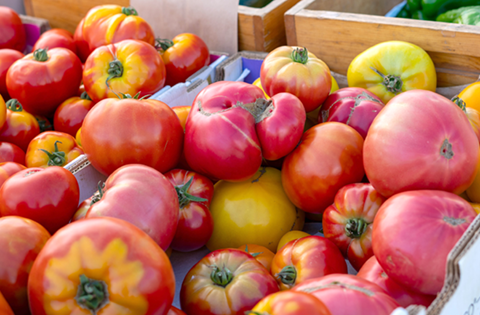 Apart from produce, one can find many unique items made by small businesses. One such business, Minoo, specializes in homemade soap and skincare products. Binah Goldman creates her soaps with all-natural oils and butters. "Everything is formulated to be super gentle," she explains. "I get a lot of positive feedback from people, including folks with skin issues like eczema and psoriasis." Binah is a resident of Cedar Mill herself, living just a mile away from the market.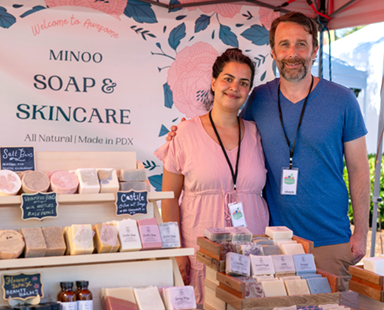 All in all, the Cedar Mill Farmers Market remains a cornerstone of the growing community, bringing life, music, and excitement to the Safeway parking lot each Saturday. The market is more than just a place to shop for groceries—it's a celebration of the local vendors whose passion for sustainability and dedication to their work are apparent in any interaction.
Whether you're searching for farm-fresh foods, natural wellness products, or handmade crafts, the Cedar Mill Farmers Market is a treasure trove waiting to be explored. It is open every Saturday from 9 am to 2 pm through October 14.