Community News June 2020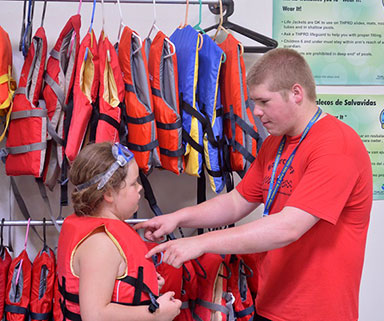 4th of July Fireworks Booth & Bottle/Can Drive
Tuesday, June 23-Thursday, July 4, 10 am -9 pm, former Bales parking lot
The Sunset Marching Band and Color Guard will be running our Annual Fireworks Booth at the former Bales Parking Lot. We only sell Oregon-legal fireworks.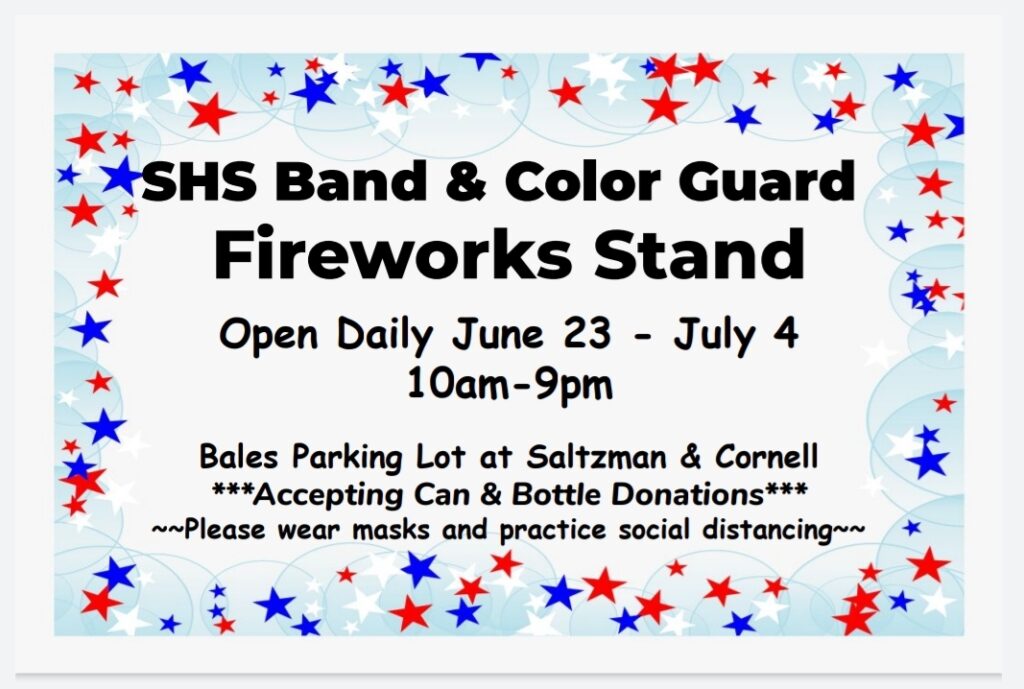 Bottle & Can Collection!
We will also collect those redeemable bottles and cans you've been holding onto for us at this time as well!
Please Wear a Mask.
We will be practicing Social Distancing of 6 ft and appreciate your cooperation!
Fundraiser for SAMBA
The Sunset Apollo Marching Band and Auxiliary (SAMBA) Parent Club, is a Non-Profit 501(C)(3) organization that supports all of the comprehensive band and colorguard programs available at Sunset High School. SAMBA does fundraisers throughout the year to pay for travel expenses, entry fees, uniforms, specialized performance instruction, show design, instrument purchase and repair, the purchase of new music and arrangements, and for scholarships for students who otherwise would be unable to afford to participate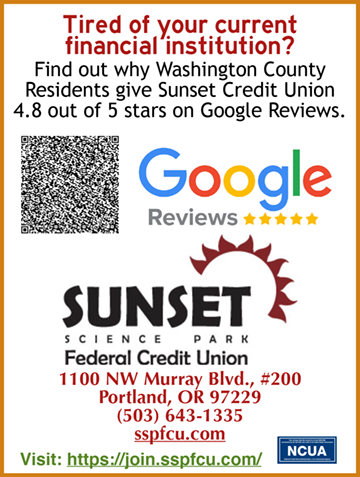 Viva Village: Online Age Cafe
Fridays, 11-12, Zoom
Online Age Cafe, a collaboration between Viva Village (vivavillage.clubexpress.com), the Beaverton City Library, and Washington County's Disability, Aging, and Veterans Services (DAVS) continues through June.
Online Age Cafe gives participants the opportunity to take part (via ZOOM) in small, facilitated, breakout group discussions to explore particular issues, feelings, and concerns around aging. While anyone can participate, Online Age Cafe can have particular value for seniors/older adults currently separated from friends, their adult children, and grandchildren.
Age Cafe was originally intended to take place at the Beaverton City Library, using the very successful model of World Cafe, a way for engaging people in conversations that matter. Participants, who may or may not know each other, sit together at tables in a simulated cafe setting, complete with food and beverage, and converse about issues of particular interest/importance with the guidance of trained facilitators. Online Age Cafe enables participants to converse safely, while remaining in the comfort of their own homes.
The topic for the first session in June is The Unexpected Gifts of Aging. Prompt questions for the first June discussion are:
From your experience, what are the unexpected gifts of aging?
What does aging well mean to you?
To participate, log in to vivavillage.clubexpress.org and click on Calendar at the top of the screen. On the Calendar page, click on the Online Age Café session(s) in which you want to participate.
Other Viva Village online, open-to-the-public ZOOM events continuing in June include Women's Coffee, Viva Village Book Club, and Men's Coffee Break. To participate, follow the same instructions above to reach the Viva Village Calendar page.
Inside WashCo radio
Here's the weekly scheduled radio broadcast times (each program is released on Monday on our site, and to our subscribers). All programs are available through podcast subscription, or listen on the website. For more information, visit our website.
Broadcasts are on KBOO (90.7FM), Wednesdays at 9 am; on KUIK (1360AM), Fridays at 1:30 pm. Encore episodes now! You can subscribe at insidewashco.org/podcasts.
June 2020 – Rebroadcasts of earlier programs
June 1: Centro Cultural, Latino Issues in Washington County, with Maria Caballero Rubio -Executive Director
June 8: Centro Cultural, Latino Issues in Washington County, with Maria Caballero Rubio -Executive Director
June 15: Affordable Housing, Part 1
June 22: Affordable Housing, Part 2
June 29: Native American Issues in Oregon with Congresswoman Elizabeth Furse
Folk Dancing Zoom Lessons
Time and date TBD, free
Interested in learning a folk dance or two via Zoom? Folk dancing with Sue & Friends (usually held at Leedy Grange Hall) has gone virtual for the time being. If you have ever wanted to try folk dancing, now might be the time to try a special class for beginners. All you need is a small space in your house and a Zoom connection. You will learn a few easy dances during this 45-minute beginner class. Please send an email to Sue at pifdnews@gmail.com if interested, and include day and time preferences. Minnimum number to hold a beginner's class is six participants. For more info visit website at sites.google.com/site/pifdnews.
The Music Continues at PCC Rock Creek!
The PCC Rock Creek Music Department is offering a full fall schedule of classes for music majors or amateur musicians at every level, with a robust applied music program, and high-quality instrumental and choral ensembles fully optimized for temporary remote instruction. We offer a full array of pre-professional music coursework that will transfer to private and state colleges, offered by award-winning faculty, all at a fraction of the cost. Take classes in piano, voice, guitar, theory, history, jazz ensemble, choir, music technology, and much more. The Fall class schedule will be released June 12. For more information go to: www.pcc.edu/musicrc.
Domestic Violence Resource Center
The Domestic Violence Resource Center (DVRC) is doing everything we can to limit the spread of COVID-19. In order to continue providing essential services to survivors of domestic violence, we have moved our services online until we are able to safely resume in-person services.
Community Advocates are available to assist with general information, resource referrals, safety planning, case management, filling out protective order paperwork, and more. Advocates can be reached via e-mail, calling the Community Advocacy phone line 503-640-5352 ext. 604, or by calling the Community Advocacy Zoom Number, 503-773-5191. Please contact Advocates in the way that is safest for you.
Individual and group counseling services are available via Zoom or telephone. For more information about current services, please call the Counseling Services phone line, 503-521-7997 ext. 135. For shelter availability, please call the DVRC 24/7 Crisis Line: 503-469-8620 or toll free, 866-469-8600.
Keep up to date with service delivery changes by visiting www.dvrc-or.org or following us on Facebook, Twitter, or Instagram.
Writers' Mill
Sunday, June 21, 1- 3pm, via zoom
Cedar Mill's Writers' Mill is zooming into June with another online Zoom meeting. Sheila Deeth (author of several novels and a children's storybook series) will speak on "Writing Rules, Writing Methods, Writing Aphorisms, and why can't I just sit down and write?" So if "Why can't I just sit down and write?" is your question, or if you want to learn about the Snowflake Method, the Mountain Method, plotters, pantsers, and more, join us in the Zoom room! Email admin@portlandwritersmill.org for more information.
THPRD Life Jacket Program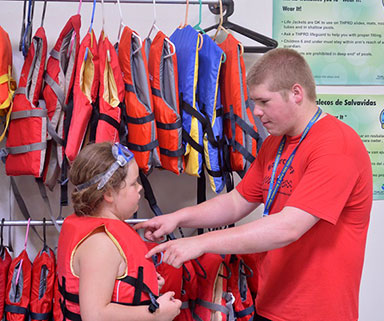 Summer is a great time to enjoy swimming, boating and other water activities. Tualatin Hills Park and Recreation District year-round pools have life jackets available to be loaned out for our residents. This is a free service in order to promote safety in and around our pools and natural water areas.
If you would like to support this program, Deyvik Bhan, an Eagle Scout from troop 728, has created a GoFundMe to raise money for the purchase of more life jackets. Donate at: gofundme.com/f/thprd039s-life-jacket-library.
Deyvik is working to set up a loaner station at HMT Recreation Complex until pools open to the public. Once pools are open, you can pick up life jackets at any year-round THPRD pool. For more information, contact Deyvik at deyvikbhan@gmail.com.
Cedar Mill and Bethany Community Libraries
Summer reading is different this year
No registration—just read or listen to books! Join us for Imagine Your Story, our annual Summer Reading program, starting on Saturday, June 1. Summer is a great time to read what you like, to learn new things, and have fun. Discover the different challenges and activities for kids, teens and adults on our website.
Teen/Tween Summer Reading Challenge
Participate in the Teen/Tween Summer Reading Challenge and help others.
The teen tween summer reading challenge will look a little different this year. There will be no prize books to hand out because of safety concerns this year, but we absolutely want to encourage everyone to keep reading. To do this, from June 1 through August 31, every book read by those entering sixth-twelfth grades will contribute twenty-five cents towards a donation to the Oregon Food Bank in order to battle food insecurity. Our goal is to donate a maximum of $1000 by the end of the summer. Read for fun and do good at the same time!
How can you participate? If you want to track your reading online, download the Beanstack Tracker App from your favorite app store, create an account if you haven't used it before or log in with your account from last year and start tracking!
You can also do the tracking on this website: librarycedarmill.beanstack.org. If you would rather print off the form to fill out, find it at library.cedarmill.org/summer-reading/teens.
Create at Home
This series has been created for you to find inspiration and tap into your own creativity. These videos demonstrate the creative process, using different mediums, and are accompanied by valuable tips and resources. Come doodle, draw, paint and color with us.
Connecting Children with Nature
"Before we ever put a pencil in a child's hands, those hands should dig, climb, press, pull, squish, twist and pinch in a wide array of environments and with a variety of materials" – Amanda Morgan, Not Just Cute. This is the way children learn, using all of their senses while exploring their world. Try a simple nature scavenger hunt or our other ideas for connecting with nature.
(Online) Owl Book Group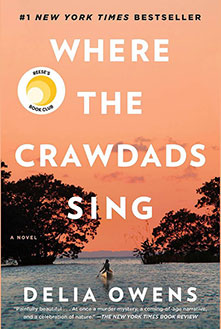 Zoom: Fridays, June 26, July 31, August 28, 10:30 am-noon
This event will be held online via Zoom. If you already receive e-mail from the Owl Book Group, you'll receive a link for this meeting a few days before the event. If you're new, welcome! Please e-mail laurab@wccls.org to receive a link for the event a few days before it happens.
In June we will discuss Where the Crawdads Sing, by Delia Owens. Check our website for July and August selections.
Three on a Theme Book Talk
Wednesdays at 5pm on Facebook
Library assistant Becca brings us three book recommendations that all share a common theme!
Past videos are on YouTube.
To see other books on the same theme, visit our BiblioCommons page and start reading! Online video posting schedules may change. Please view schedules at library.cedarmill.org/events.
While we don't know exactly what our service options will look like when we reopen, there are loads of great e-books and audiobooks available to download from our Overdrive and Libby services right now. Go to wccls.overdrive.com to learn more or download the Libby app from your favorite app store.
Teens and Tweens can also look forward to several virtual or online events this summer like creative art challenges, virtual bake offs, escape rooms, and trivia sessions. Check library.cedarmill.org/summer-reading/teens/ soon for more details.
Wildfires Can Happen Here! Take Steps Now to Reduce Risks
It's important for property owners to take steps to help protect your home and land from potential wildfires this summer. During a wildfire, time is crucial and resources are limited. What you've done before a fire strikes may determine whether firefighters are able to save your home and other structures on your property. Tualatin Valley Fire & Rescue has taken deliberate steps in the past 20 years to ensure a quick and effective response to wildfire, including investing in specialized wildland vehicles and equipment. Firefighters also participate in hands-on training.
This is the perfect time to create a 30-foot defensible space or safety zone around your home that may help firefighters safely protect your home from an encroaching fire. To create this space, homeowners are encouraged to take the following steps:
De-limb trees at least 10 feet up from the ground and cut back tree limbs hanging over your roof.
Trim branches that are within 10 feet of a chimney.
Consider replacing wood shakes or shingles on the roof with non-combustible or fire-resistant materials.
Remove leaves, brush, and other debris from your gutters, rooftop, and underneath decks and crawl spaces.
Regularly mow and water lawns and other green belts on your property. Keep your landscaping well pruned and watered.
Plant low-growing, fire-resistant plants such as ground cover, perennials, and annuals near your home. Plant individual shrubs and hardwood trees at least 10 feet from your home and other structures.
Store firewood and other combustibles at least 100 feet from your home.
Ensure firefighters can quickly find your home by posting your address at the beginning of a long driveway. Make sure your street is named or numbered and a sign is posted at each street intersection of your driveway or road. If you need a rural address sign, call 503-697-9418.
Access to your property is also crucial. To ensure crews can safely respond, cut back low-hanging tree limbs and clear dense vegetation and debris from the road or driveway. Driveways should be 20 feet wide and have a minimum clearance of 15 feet overhead.
For more information about wildfire safety tips and additional preventative measures, visit Tualatin Valley Fire & Rescue at www.tvfr.com.
No price increase from Clean Water Services
Due to the financial stress many families and businesses are feeling from the COVID-19 pandemic, Clean Water Services is recommending sanitary sewer and surface water management rates remain at their current levels in the new fiscal year (July 1, 2020-June 30, 2021). Increases in connection, permit, and other fees may occur at a later date when economic activity in the region recovers. We will manage our budget by delaying planned operating and capital investments.
Your comments and questions are welcome at the June 5 Budget Committee meeting and June 23 Board public hearing where the proposed Fiscal Year 2020-21 budget and rates will be presented. To learn more about how you can participate, please visit cleanwaterservices.org/budget or call 503-681-3600.
OSU Ext. Pressure Canner Testing
Every Wednesday, 11 am-1 pm, OSU Extension in Washington County, 1815 NW 169th Pl #1000, free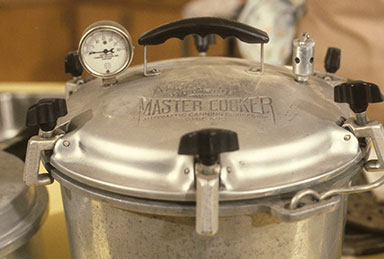 Prepare for canning season by testing your gauge! Just drop by, no appointment necessary! Bring your gauge with or without the lid! To minimize contact and ensure everyone's safety, we'll provide an outside drop off point. Gauges may be picked up immediately after testing, by 1 pm that day, or the following Wednesday. Testing only takes about five minutes per gauge.
For additional questions, please email Jenifer.Halter@oregonstate.edu or call 503-821-1150 and leave a message.
Key to Oregon
Oregonians will soon find out if they've been selected to participate in Key to Oregon, a research study led by Oregon Health & Science University that will help provide vital information about COVID-19 to help reopen the state, and keep it open. The program will supply home-testing kits to selected participants.
Recruitment notifications will be sent by mail and are expected to hit mailboxes across the state once Key to Oregon receives final FDA approval. Households selected to participate will first receive a post card that will alert them of forthcoming enrollment information. A mailed letter, with specific directions to guide online enrollment, will follow shortly after.
Study researchers expect to contact 150,000 randomly selected households who fully represent the state, including our diversity in geography, socioeconomic status and communities of color. All members of a selected household over the age of 18 are eligible to join. The study hopes to enroll up to 100,000 participants. Participation in the study is voluntary.
Register your child for Kindergarten at Terra Linda
Online Kindergarten registration is open now for the 2020-2021 school year. If you prefer, paper enrollment packets can be picked up and dropped off every Wednesday, between 10 am-noon. Due to construction, our office staff will be based out of a Module classroom. Look for the sign on the sidewalk in the bus lane.
Please help spread the word to any families and neighbors who have children ready for Kindergarten for the 2020-2021 school year. Students must be at least five years of age on or before September 1, 2020 per state statute, and live within the attendance boundary of our school. We invite you to register early as this assists us in confirming enrollment for staffing purposes.
Tualatin Valley Creates
Planning for Budget Deficits
Thursday, June 11, 11:30 am-12:15 pm, free, register at www.tvcreates.org/workshops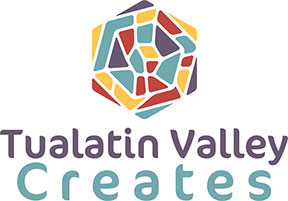 Tualatin Valley Creates is offering short informational webinars addressing timely topics that are directly related to COVID-19's dramatic effects on the creative community. The current public health situation has resulted in many organizations facing or expecting to face budget deficits. This workshop will discuss strategies that can help with planning for deficits, including ideas that can help focus messages and activities, identify in-kind opportunities to reduce costs, and find allies to support your work.
Jeff Pazdalski is Executive Director of Westside Transportation Alliance and serves on the Board of Directors of the Transportation Options Group of Oregon. Jeff has more than 20 years of experience in nonprofit leadership, including executive director, fundraising, and program roles in diverse fields including the arts, athletics, and food security services.
Washington County Forum
Monday, June 8, 7 pm Virtual Forum
The forum will celebrate the 100th anniversary of the 19th Amendment guaranteeing women the right to vote. League of Women Voters of Portland President Debbie Kaye will discuss how far we've come and the work still ahead.
THPRD Update
THPRD has opened outdoor tennis courts, dog parks, bocce courts, the archery range at PCC Rock Creek, and skate parks. These amenities opened sooner than originally anticipated based on state guidelines released by the Governor's Office in mid-May. There will be physical distancing requirements and participants will be limited to groups of 10 people at a time, per Oregon rules currently in effect.
All THPRD parks and trails are open for public use but other park amenities such as basketball courts, playgrounds, athletic fields, and picnic shelters remain closed. For an updated list of closures, please visit www.thprd.org.
Update on Summer Programming
Youth Summer Camps schedules and more information are available on the district's website. THPRD will begin offering weekly summer camps starting Monday, July 6.
Due to compliance with state rules and THPRD's current limited operational capacity, the district will begin summer programming by focusing on summer camps for school-age youth. Each camp group will be limited to 10 participants with approximately 30 total camp options per week.
Based on state guidelines, the first few weeks of summer camp offerings will be centrally based at two locations: the HMT Campus, and Mountain View Champions Park. Space will be limited, with THPRD initially able to accommodate around 300 campers per week.
In-district registration will begin Saturday, June 13, at 8 am. Out-of-district registration will begin Monday, June 15, 8 am. The best way to register is on-line at www.thprd.org. The district will offer in-person registration assistance, a Welcome Center/Centro de Bienvenida at the HMT Campus starting June 13, 7:30 am. More details will be announced soon.
The best place to stay up-to-date is the district's website. As the summer progresses, THPRD hopes to offer more programming and will announce additional youth summer camps or possibly adult programming/classes as our capacity grows. Please visit our Virtual Rec Center on the district's website for free online opportunities.
Doreen Rivera retires from WCSO
The Community Outreach Specialist who has been connecting our communities with the Washington County Sheriff's Office has retired as of June 1. She's been a valuable resource in helping to solve problems and answer questions about law enforcement activities and resources, and we will miss her. Until a replacement is named, those with questions can contact Amy Terrones at 503-846-5930 Amy_terrones@co.washington.or.us or Patti Shilasky at 503-846-2773 patricia_schilasky@co.washington.or.us for help or questions.