Road News June 2020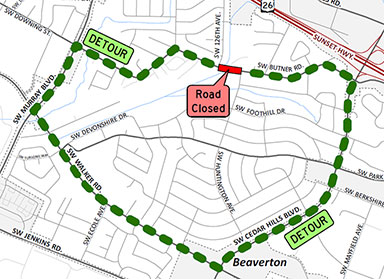 Butner Road culvert construction
The Butner Road Culvert at Johnson Creek (just east of 126th Ave.) will be replaced with an updated, nine-by-five-foot box culvert. Sidewalks and bike lanes will be added on both sides of the road, along with appropriate railings. The existing culvert on SW Butner Road at Johnson Creek, between SW 126th and SW Huntington avenues, is in poor condition. A wooden pedestrian bridge next to the road will be removed.
This area has been subject to flooding, and improvements in culverts should help with that. Visit the Tualatin Watershed Enhancement Collaborative website for more information. The site has great information and is the result of several years of work.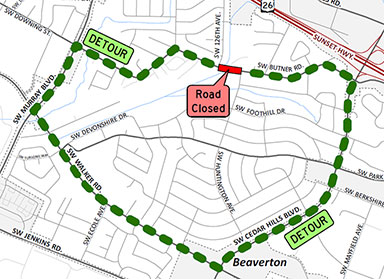 Construction is scheduled for June-December. Butner Road will close for about six weeks, tentatively beginning July 15, while the culvert is replaced. Access will be maintained for bikes and pedestrians. Traffic will be detoured to Cedar Hills Boulevard, Walker Road and Murray Boulevard. Pedestrian and bicycle access will be maintained through the construction area.
Improvements include a larger culvert which will improve fish passage and help with two-year to 25-year flood mitigation. Sidewalks will be added on both sides of the roadway, and the existing water line will be replaced. The project includes a crosswalk across Butner Road at the SW 126th Avenue intersection.
In March, selected trees were removed along Butner between 126th Avenue and the west church entrance in preparation for relocation of overhead utility lines before construction. That work began in May and included removing two abandoned power poles in preparation for a summer culvert replacement.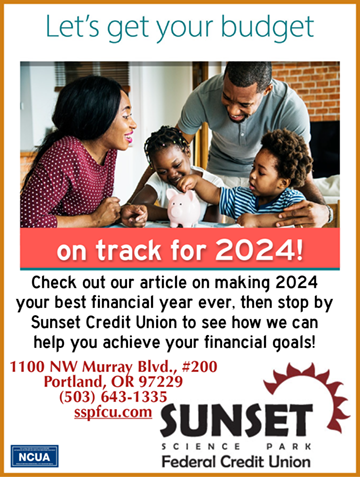 The estimated $978,000 project is funded through the County's Road Fund as part of the Annual Maintenance Program.
For more information, visit the Butner Road Culvert Online Kickoff. The Open House portion of the pages is closed but the information is still there. For questions, contact Capital Project Services at 503-846-7800 or lutproj@co.washington.or.us.
Culvert replacement and waterline at Autumn Creek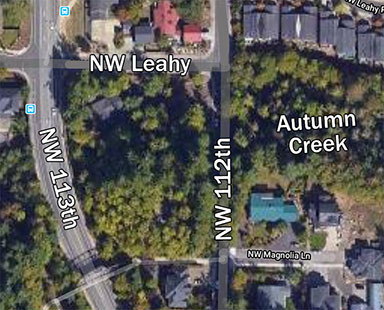 An existing culvert running beneath 112th (south of Leahy) for Autumn Creek, a small tributary of Johnson Creek, is in poor condition and needs to be replaced this summer with a corrugated metal pipe designed for fish passage.
A Tualatin Valley Water District (TVWD) water line conflicts with the construction of the culvert replacement project. TVWD wants to include the construction of waterline improvements with this project. TVWD will fund the waterline and the county will manage construction. Construction is anticipated to begin in August and be finished in September 2020.