Community News July 2023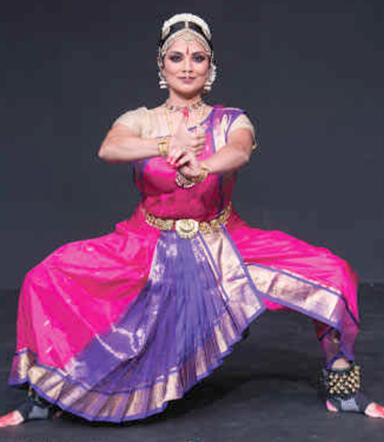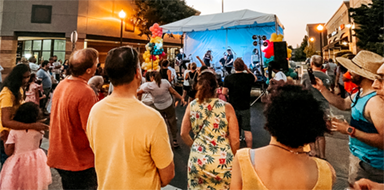 Bethany Village Summer Concert Series
Thursdays, July 13, July 27, August 10, 6-9 pm, 4720 NW Bethany Blvd, free to attend
The Bethany Village Concert Series presents three summer celebrations that feature a variety of vendors, live music, and intermission acts featuring local young talent, carnival rides, kids' activities, backpack and school supply drives, and more. Visit the Bethany Village website for more information on dates and costs. Vendors welcome to apply!
July 27 concert: Steve Hale and the Super Soul Heroes, Carnival Swing Ride, Portland Pony Rides, Intermission act from World Class Taekwondo, Backpack/School Supplies Drive.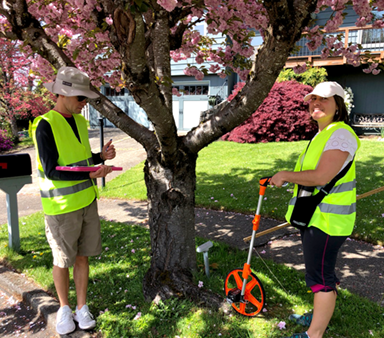 Street Tree Inventories
Varying times and locations, free
Work with the Treekeepers of Washington County to map, measure, and identify trees in the public right of way. This is the first step in knowing how to protect and maintain our local trees. Find out more about what we do while getting fresh air and exercise, meeting like-minded neighbors, learning about trees, and helping the environment. Find dates and locations by clicking on the sign up form to register.
Cooper Mountain Nature Walk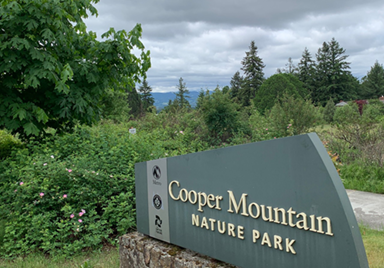 Thursday, July 13, 7-8 pm, 18892 SW Kemmer Rd., Beaverton, free
Join us for a walk among the unique trees within the Tualatin Valley. The mile-long walk will be taken at a leisurely pace on a packed light gravel train with moderate incline. Feel free to bring binoculars along if you're interested in birding. Register through this sign up form.
The Student Stop Summer Day Camps
Through August 11, Bonny Slope Elementary, 11775 NW McDaniel Road,
A safe and fun environment plus reasonable rates and flexible scheduling where parents can choose the days to attend.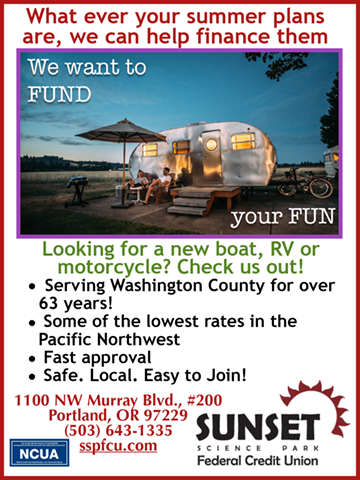 Reach for the Stars Fundraiser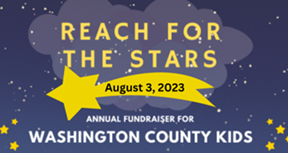 Wednesday, August 3, Ruby Vineyard in Hillsboro, donation $75
Washington County Kids works to make sure kids have safe places outside school hours and also offers parent education programs. We invite you to join us at Ruby Vineyard for our annual fundraiser as we Reach for the Stars! Visit our website to get your tickets for a lovely evening celebration with hors d'oeuvres, music, plus silent and oral auction items. Did I mention our hosts at Ruby Vineyard will have their delicious wines available? Donations are being accepted by our auction coordinator. Sponsorships start at $250 and include event tickets!
Sylvan Heights Nature Trail Work Parties
Thursdays 5:30-7 pm, and Sundays 2-4 pm, Sylvan Heights Condo Clubhouse, 7600 SW Barnes Rd, free
Join the Sylvan Heights Nature Trail Project to pull ivy and root out blackberries. Four hours of volunteer work will entitle anyone to a $25 gift card to several local establishments. Wear old clothes and bring water and hand tools if you have them. For more information, contact sylvanheights.landscape@gmail.com.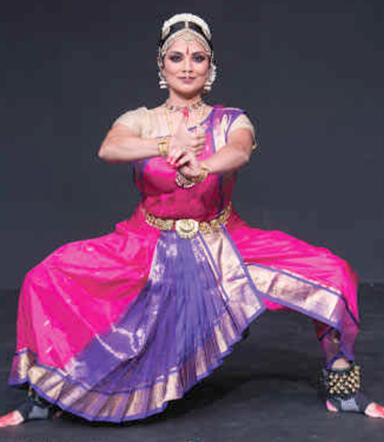 Ten Tiny Dances
Saturday, July 8, 5 pm, The Round, 12600 SW Crescent St., Beaverton, free
Ten Tiny Dances® presents the work of exemplary contemporary and traditional choreographers on a small stage in non-conventional sites. This event engages, surprises, delights, and challenges the community around art in public spaces, highlighting the artistic and cultural diversity of Beaverton. Visit the Ten Tiny Dances website for more information on all the participants.
Beaverton Night Market at The Round
Saturdays, July 22 and August 10, 5-10 pm, The Round: 12600 SW Crescent St., free to attend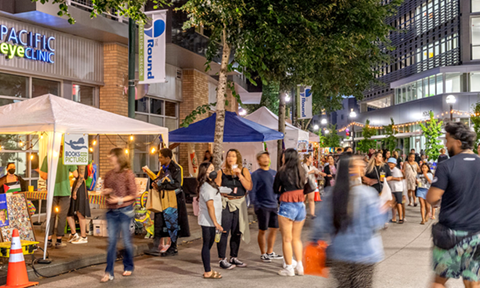 The Beaverton Night Market exists to create a vibrant, intercultural, family-friendly space that is reminiscent of night markets internationally. The Market offers a gathering space with multicultural food and crafts for families of all backgrounds.
The event features over 60 vendors selling food, art, clothing, and more. Two stages feature cultural music and dance performances all evening. The Beaverton Night Market fosters spaces for cross-cultural exchange, emerging food/craft vendors, and a fun, family-friendly environment.. Watch a YouTube video of previous markets!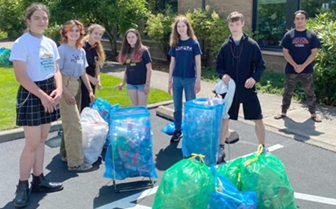 Sunset HS Marching Band Can & Bottle Drive
Saturdays July 8, August 12, September 9, Sunset Church, 14986 NW Cornell RD, free
Drop off your redeemable bottles and cans to help us raise funds for marching band and music programs at Sunset HS. Bring them in any container (or use bags we provided), and we'll give you a new bag for next time. You can reach us at samba@sambanote.org with any questions.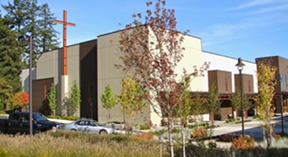 Caregiving resources for seniors and families
Saturday, July 15, 9 am-1 pm, Village Church, 330 SW Murray Blvd., Beaverton
Drop in to this free event to find resources and connect with service providers for seniors and their families who are seeking to prepare for the years ahead.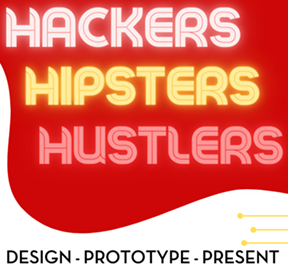 Hackers Hipsters and Hustlers Summer Camp 2023
Two sessions: July 10-21; July 24-August 4, 12-4:30 pm, George Middle School 10000 N. Burr Av. Portland, grades 6-12, see below for cost
This is a two-week camp where students will be guided into an entrepreneurial mindset of solving problems through invention and computer science. By the end of the camp, students will have identified a problem, come up with a viable solution, prototyped their product, and will pitch their invention and business to their peers.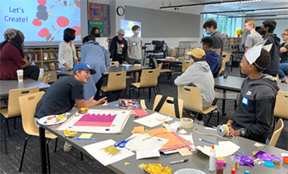 Requirements: Hackers Hipster and Hustlers is for youth in grades 6-12 and able to participate in the two-week camp. Students may attend one or both sessions. If enough students from our area are interested, they will facilitate carpools.
The course is subsidized by Portland Public Schools and is free for those students, $349 per session for others but they have some scholarships available for qualifying students. Lunch and snacks are included. Spots are limited and available on a first come first served basis.
Visit the website for more information and to register.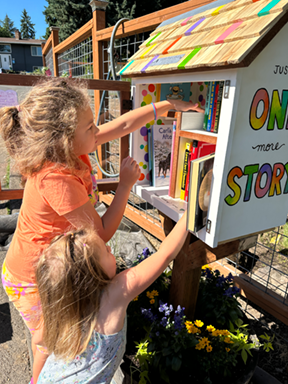 The "Just One More Story" Little Free Library
12980 SW Evergreen St., in Cedar Hills just south of Hwy 26, Charter #164924
Last month we installed a Little Free Library in our neighborhood, complete with a grand opening party and ribbon cutting! Our neighborhood is truly special, but our family's hope is that this library helps enhance this wonderful community! And so far, it's doing a great job of this. It's been really rewarding to see different families stop for a book and end up chatting with a new neighbor!
Another goal of this library is to further the mission of the Little Free Library and make books accessible to kids and adults alike. And my hope is that this also helps foster a love of reading and exploration for the many children in our part of town.
You can also visit littlefreelibrary.org/map or the Little Free Library App to find ours and all other official LFLs in the greater Cedar Mill area! (Just search by the charter number listed above). More images can also be found at the library's new Instagram account: instagram.com/just.one.more.story.library. (Submitted by Katie Gosline)
At the Reser in July:
Chamber Music Northwest: Uncovered Voices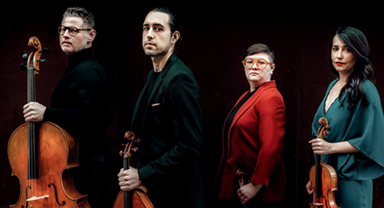 Thursday, July 13, 8 pm
Prelude performance with Cognizart's Young Artists Debu! winners in the Reser lobby, 7 pm
Please visit the Reser website for the program details.
Playing for Change Band
Tuesday, July 18, 11:30 am and 6:30 pm, free
For families—featuring interactive performances with exciting and inspiring musicians. Please visit the Reser website for the program details. This performance is part of Chamber Music Northwest's 2023 Summer Festival.
For all the July performances at the Reser, please visit their main event page.
Chalk Art Festival in Hillsboro
Saturday-Sunday, July 15-16, Cultural Arts District along E Main  (1st Ave to 4th Ave) Hillsboro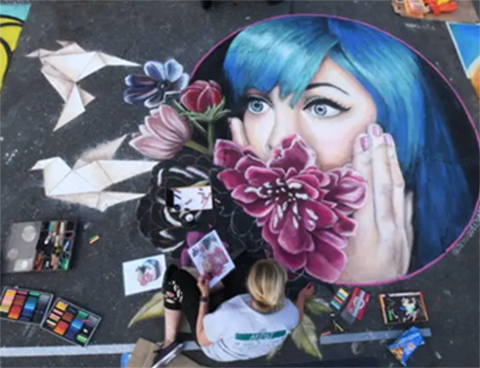 La Strada dei Pastelli Chalk Art Festival is an immersive, open-air art festival featuring large-scale street paintings, live performances by local musicians, food and drink vendors, art vendors, and hands-on activities for the whole family. This regional attraction is a premier professional-caliber chalk art festival and expects over 40,000 attendees.
The event is produced by Tualatin Valley Creates and supported in part by the City of Hillsboro, Washington County Visitors Association and 45 additional local and national contributors. Last year, festival-goers watched as 25 award-winning and emerging artists from Oregon, California, Virginia, and Georgia transformed Main Street into a temporary gallery full of colorful and vibrant legos, pandas, bubbles, and portraits of joyful children made entirely from chalk pastels. In the community chalk area (along 2nd Ave.), kids had the opportunity to create their own mini masterpieces, filling over 1,000 squares.
Local performing artists fill the air with rhythm and sound from the festival's main stage. Local art vendors also line the streets offering unique items and inspirations to attendees. Attendees of all ages are encouraged to take part in hands-on activities being provided by local nonprofit organizations.
Viva Village July events
Viva Village is a Beaverton-area grassroots organization of members and volunteers who focus on enhancing and expanding the ways we can age well. We provide connections, programs, volunteer services, and referrals so members can lead engaged, healthy lives. Please RSVP for all events by contacting vivavillageevents@gmail.com or 503-746-5082. Links for zoom meetings will be sent to those who RSVP. Members-only events are listed on our website and in the web version of Cedar Mill News. For more information visit the Viva Village website.
Viva Village events open to the public:
Women's Coffee (In person)
Wednesdays, July 5, 12, 19, 26, 10 am, Jim & Patty's Coffee, 4130 SW 117th
Coffee and conversation. RSVP recommended.
Age Café
Friday, July 7, 11 am-12 pm, Beaverton City Library, 12375 SW 5th Street
Small group conversations exploring topics of interest to older adults. A new topic each month. Stay and mingle afterward. Co-sponsored by Viva Village, Beaverton City Library, Washington County, DAVS, and Beaverton Committee on Aging (BCOA). Registration optional.
Online Viva Village 101
Saturday, July 8, 10-11:30 am, Zoom
A fun and informational session about Village life for prospective members and/or volunteers. RSVP for the Zoom link.
Men's Coffee Break
Monday, July 24, 10-11:30 am, Ki Coffee, 4655 SW Griffith Dr. #160
Conversation and coffee. RSVP recommended.
Online Viva Village Book Club
Tuesday, July 25, 1-2:30 pm, Zoom
Selected book: The Bee Keeper of Aleppo by Louise Christy Lefteri. RSVP for the Zoom link.
Viva Village events for members and volunteers:
Viva Village Nature Walk
Saturday, July 1, 9:30 am, Tualatin Hills Nature Park, 15655 SW Millikan Way
RSVP recommended.
Online Mindfulness Classes
Mondays, July 3, 10, 17, 24, 11-11:45 am, Zoom (last of Series 4)
Befriend Your Inner Critic: this can help you live more mindfully. In this session Martha McJacobs will focus on The Power of Love. RSVP for the Zoom link.
Online Women's Coffee
Tuesdays, July 4, 11, 18, 25, 10 am, Zoom
Join members and volunteers for a morning of coffee and conversation. RSVP for Zoom link.
Online Tai Chi Classes
Thursdays, July 6, 13, 10-11 am, Zoom. Note: No class on 7/20 and 7/27
Practice Tai Chi technique with certified instructor, Richard Chew. RSVP for Zoom link.
Patio Picnics
Fridays, July 7, 21, 12:30-2 pm
Conversation and lunch on a deck or patio. Bring your own lunch. You will be notified of the location and host a day or two before the picnic. RSVP required by the Wednesday before the picnic. Login to register on the website or contact the Viva Village office.
Life Stories
Tuesday, July 11, 2 pm, Southminster Presbyterian Church, 12250 SW Denney Road, Beaverton
Viva Villager Barbara Bernstein will talk about her journey "From Peru to Portland." RSVP recommended.
Dine Around Beaverton and Beyond
Wednesday, July 12, 1 pm, China Town Restaurant, 4021 SW 117th Av.
Join members and volunteers for lunch and conversation. Participants must be vaccinated. Let the office know if you would like to carpool. RSVP required by 1 pm, Tuesday June 11. Space limited to 15 people. *Please notify the office if you need to cancel.
SNAP 101 (members)
Thursday, July 13, 10:30 am-12:30 pm. Beaverton City Library, Meeting Room B, 12375 SW 5th
For Viva Village members to learn the basics about the new SNAP planning tool. Let us know if you need a binder. If you've already received your binder, bring it with you. RSVP required. Register on the website or contact the Viva Village office.
Viva Village Forum
On hiatus for the summer. See you in September.
Village Night at the Hillsboro Hops
Tuesday, July 18, 7 pm, Ron Tonkin Field 4460 NE Century Blvd., Hillsboro
Hillsboro Hops MLB Farm Team vs. arch-rival Eugene Emeralds, Hosted by Villages NW, an evening of baseball and fun with Portland-area Villagers. The evening will include a video board welcome and a visit from the Hops mascot Barley. VNW has purchased a block of tickets for $18 each. Purchase your ticket here. Plan to carpool with others from Viva Village.
Living Solo (In-Person)
Wednesday, July 19, 2-2:30 pm, Beaverton City Library, Cathy Stanton Room, 12375 SW 5th
Meet in person to share experiences, tips, and strategies for living on your own. RSVP recommended.
Online Living Solo
Thursday, July 20, 4-5:30 pm, Zoom
Share ideas and insights about solo living. RSVP for the Zoom link.
Thursday Evening Social Group
Thursday, July 27, 5:30-7:30 pm, Thirsty Lion, 10205 SW Washington Square Road, Tigard
Enjoy an evening of dinner and conversation with Viva Village friends. RSVP required. Seating limited to 15. *Please notify the office if you need to cancel.
Fun with Games
Friday, July 28, 1 pm, Viva Village office, 4905 SW Griffith Drive, #104
A fun afternoon playing games together. RSVP required. Limited 12 game players. Register on the website or contact the office. *Please notify the office if you need to cancel.
Viva Village Family Summer Picnic
Saturday, July 29, 11:30 am-1:30 pm, Evelyn Schiffler Park, 5495 SW Erickson Avenue
Burgers, condiments, and iced tea and lemonade will be provided. Bring a side dish to share. Family welcome. More details to come. RSVP required by Monday, July 24. Register on the website or contact the Viva Village office.
Arbor Cascadian Neighborhood Yard Sale
July 29-30 & August 5-6, 9-5, Arbor Cascadian neighborhood (off Thompson west of Findley Elementary)
Contact Sherry with questions: 503-739-0673