Community News September 2021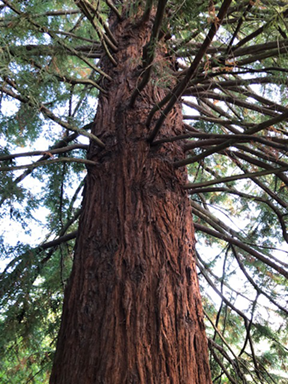 Cedar Hills Ready! "Ready-Set-Go! Family Emergency Plan Workshop"
Wednesday, September 22, 7 pm-8 pm, via Zoom. Registration required.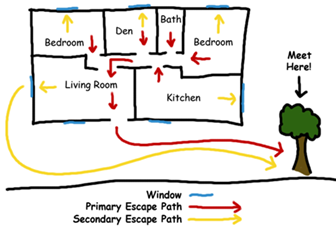 Where will you go if you need to evacuate with a moment's notice? How will you contact your family members? Where will you meet them? Find out how to put together a family emergency plan and get the tools you need to pull together your important documents.
During this interactive meeting, you'll have an opportunity to start filling out your family emergency plan. Take this step to make sure every family member knows what to do when the worst happens. Join your friends at Cedar Hills Ready! and QuakeUp! for an hour Zoom discussion of these topics. Everyone is welcome! Share and invite your friends and family.
Registration is required. For questions, visit our website or contact Karen at info.cedarhillsready@gmail.com.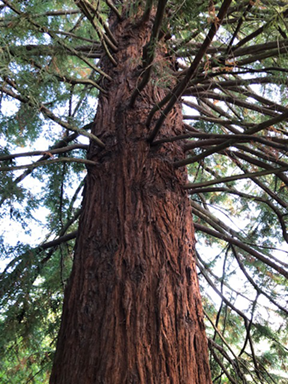 It's "Steptember!"
Celebrate the crisper, cooler days of fall by enjoying our local trees in the Cedar Mill area. Here is a downloadable brochure with three loop options or a link to a version with photos for your mobile device. Take a stroll and tell us what you see out there. Follow our other work at treekeeperswc.org.
Bethany Village Oktoberfest
Saturday, September 11,1 pm-6 pm, 4720 NW Bethany Blvd
Join us for the Bethany Village Oktoberfest! featuring live music from Polkatones, accordion playing, German-inspired food, a carnival ride, kids crafts, and a variety of vendor booths. There will be fun for the whole family. A Voodoo Doughnut truck will be there to provide their treats, are donuts German?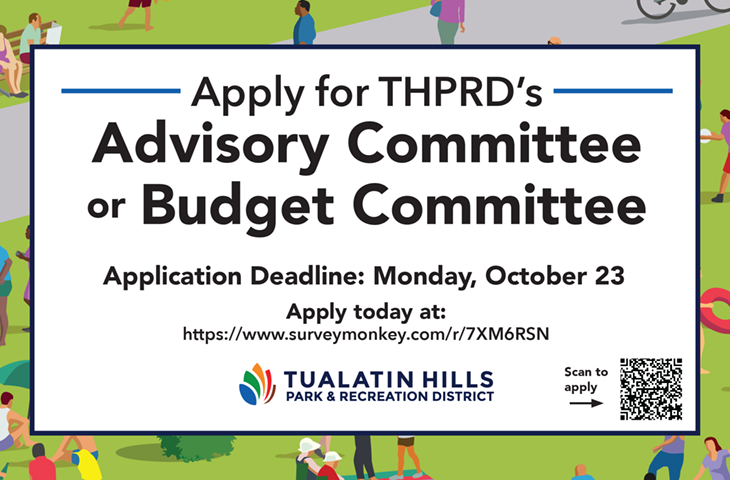 Dust off your best Bavarian attire and experience the Bethany Village Oktoberfest! Visit our website for more details and for future events.
I Am My Story Live
Saturday, September 11, 7- 9 pm, Alex L. Parks Performing Arts Center at Jesuit High School, 9000 SW Beaverton-Hillsdale Hwy, free.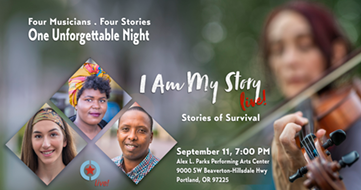 As September 11, an historic day, approaches, The Immigrant Story invites you to join in commemorating this important occasion. "I Am My Story: Voices of Hope" is a live storytelling event presenting powerful voices of survival and soothing musical accompaniment. With storytellers from Burundi, Rwanda, Cambodia and Syria, the program focuses on remarkable, first-person tales of resiliency in the face of unimaginable atrocities of war and genocide, offering hope and inspiration at a time when those qualities are sometimes in short supply.
"I Am My Story Live" will also feature performances from world-class musicians, kicking off with a performance by renowned viola player Dijana Ihas, a professor at Pacific University who is also a survivor of the war in Bosnia. Ihas was a member of the Sarajevo String Quartet, an ensemble that played more than 200 concerts during the longest assault on a capital city in the history of modern warfare, the Siege of Sarajevo.
From 8-9 pm, five storytellers from across the globe will share the stories of the arduous journeys that brought them to the United States. "I Am My Story: Voices of Hope" will be a highlight of Welcoming Week, which is designed to bring together immigrants, refugees, and U.S.-born residents to raise awareness of the benefits of welcoming everyone to our communities.
WashCo Forum resumes
Mondays, noon-1 pm via zoom
Join us "virtually" as the Washington County Public Affairs Forum kicks off the 2021-2022 season! We continue to do what we can to stop the spread of COVID-19, meeting online as we provide another season of engaging speakers, including forums and panels as well as an upcoming special "listening session". You can obtain the ZOOM link to join these free events by visiting the Forum website. Free to attend; participation in the discussion is a privilege of membership, see details on the site (click on the Speakers tab).
Founded in 1956, the Forum provides a place for the interchange of ideas on civic matters. Each week the Forum brings together community leaders, members, and guests who care about what happens in Washington County, the Metro region, and our state.
September 13: The Washington County Public Health Department will provide a Covid update.
September 20: Forum Special Format: A Listening Session – Local Veterans and Refugees Share Personal Impacts of Recent Events in Afghanistan
September 27: Housing Opportunities and Challenges in Washington County: Affordable Housing, Emergency Shelter
Viva Village September Calendar
Please come participate in Viva Village's September events! RSVP is recommended for all events. Do this by calling 503-746-5082 or emailing vivavillageevents@gmail.com. More information regarding these events can be found at the Viva Village calendar page!
Note: Event changes may occur due to weather or COVID and the Delta variant. Please check the calendar on our website or call 503-746-5082 for the latest information.
Activities Open to the General Public
Online Age Café
Fridays, September 3, 17, 11 am-noon
Small group conversations exploring topics of interest to older adults. Sponsored by Viva Village, Beaverton City Library, and Wash. Co. DAVS. Contact Viva Village for registration information.
Online Viva Village 101
Saturday, September 11, 10-11:30 am
A fun and informational session about Village life for prospective members and/or volunteers. RSVP for the Zoom link.
Men's Coffee Break
Monday, September 27, 10-11 am, Ki Coffee, 4655 SW Griffith Dr #160
Conversation and coffee.
Online Viva Village Book Club
Tuesday, September 28, 1-2:30 pm
Selected book: The Woman Who Smashed Codes by Jason Fagone. RSVP for the Zoom link.
Activities Open to Viva Village Members and Volunteers
Online Tai Chi Classes
Wednesday, September 1 and Mondays, September 13, 27, 10-11:30 am
Learn Tai Chi technique with certified instructor, Richard Chew. RSVP for the Zoom link.
Online Writers Group
Thursdays, September 2, 9, 16, 23, and 30, 4-5:30 pm
Join other Village writers for a time of sharing and inspiration. RSVP for the Zoom link.
Viva Village Nature Walk
Saturday, September 4, 9:30 am. Trails at Dawson Creek Lakes, 2850 Brookwood Parkway
The lakes are located behind the Hillsboro Brookwood Library. The meeting place is the north parking lot of the library. (Unvaccinated walkers must wear a mask.)
Online Mindfulness Class
Mondays, September 6, 13, 20, 27 and October 4, 11, 2 pm.
Martha McJacobs from Life by Design guides participants through exercises and discussions focused on using meditation techniques to reduce stress. RSVP for the Zoom link.
Online Women's Coffee
Tuesdays, September 7, 14, 21, and 28, 10 am.
Meet in a private home for a morning of conversation with other members and volunteers. Limit 12. RSVP for the Zoom link.
Online Movie Interest Group
Wednesday, September 8, 5 pm.
Selected movies: The Kite Runner, All of Me, RBG. Watch one or all three, then join the discussion and share your impressions. Movies are available on Netflix or Kanopy streaming service offered by the Washington County Library. RSVP for the Zoom link and more information.
Dine Around Beaverton and Beyond
Wednesday, September 8, 1 pm. Oswego Grill (Beaverton), 3211 SW Cedar Hills Blvd.
Join members and volunteers for lunch and conversation. Participants must be vaccinated. RSVP required. Space limited.
Online Recycle Seminar
Wednesday, September 8, 7 pm, or Wednesday, September 15, 1 pm.
Note: The Viva Village Recycle Donation Day is on October 2. Get prepared with this seminar presented by Viva Village Master Recyclers—tips and advice for dealing with your recyclables. RSVP for the Zoom Link.
Gardening Enthusiasts
Thursday, September 9, 10 am, Swan Island Dahlia Farm, 995 NW 22nd Ave.
Bring a bag lunch. Picnic tables available, plus drinks and ice cream sandwiches for purchase. Meet at the Viva Village parking lot at 10 am for carpooling. Contact the event host to make arrangements. RSVP required.
Patio Picnics
Friday, September 10, 24, 11:30-1 pm.
Enjoy conversation and lunch on outdoor decks and patios with four to six other members and volunteers. RSVP for more information and to indicate if you want to host or be a guest.
Online Travel Talk
Monday, September 13, 7 pm.
Barbara Walker will share her experience traveling to Montreal and Quebec City. RSVP for the Zoom link.
Life Stories
Tuesday, September 14, 2 pm, Southminster Presbyterian Church, 12250 SW Denney Road
Viva Village member/volunteer Arlene Edwards will talk about her experiences as a nurse in Vietnam. Masks required. RSVP required. Limit 30.
Volunteer Happy Hour
Friday, September 24, 2 pm. Location to be determined
RSVP for the location (or the Zoom link).
TVF&R will never forget 9-11 and embraces emergency response changes 20 years later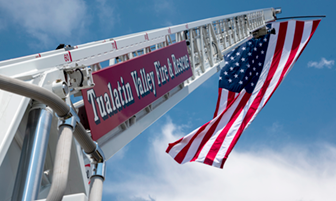 This September, our country will mark the 20th anniversary of the attacks on the World Trade Center, Pentagon, and related crash of a jetliner in Pennsylvania.
In remembrance of those tragic events, Tualatin Valley Fire & Rescue will participate in local ceremonies that pay tribute to those who lost their lives.
More than any other national holiday, this anniversary hits home for members of the emergency services community as they reflect on the sacrifices made by fellow responders who upheld their oath to serve others above themselves and the families whose lives were forever changed.
Since 2001, many changes have been made locally based on lessons learned on September 11.
Law enforcement and fire agencies have worked to improve interoperability by training together more and establishing shared protocols for large incidents.
Significant investments have been made for more resilient emergency communication infrastructure.
Better protective equipment and decontamination procedures help reduce cancer exposure.
And there is heightened recognition of mental health impacts and resources needed to help victims and responders cope with the cumulative effects of trauma.
Though there is always more work to be done to prepare for disasters, we will not forget the fragility of life, nor do we take for granted the community's trust in us. We will continue to provide the most compassionate and professional care possible and remain humbled to serve others.
Ask WSCO: What is Elder Safe?
Elder Safe helps victims aged 65 and older after a crime is reported to law enforcement and continues to help them through the criminal justice system. Based at the Sheriff's Office, Elder Safe collaborates with the District Attorney's Office and Adult Protective Services and community partner organizations to coordinate services countywide.
In this program, volunteer advocates provide crime victims with emotional support and information relating to the criminal justice system and their case. Assistance tailored to each victim's unique circumstance includes personal support, court advocacy, or help filling out forms. Program staff and volunteers understand victims' needs for information, validation, restitution, testimony, and support as their cases travel through the criminal justice system.
For questions or additional details about this program or to request an Elder Safe presentation for your organization, contact Corrine Haning at 503-846-6048 or corrine.hanning@co.washington.or.us.
Ask the WCSO is produced by the Washington County Sheriff's Office.
Tualatin Valley Creates in-person networking event for emerging artists
Wednesday, September 29, 5 -6 pm, The Village Gallery of Arts,1060 NW Saltzman Rd. Masks required.
TVC's networking events are designed to be casual platforms for individuals to connect. This month we invite emerging artists who are looking to become more involved in local galleries. Come learn about one of the area's oldest, non-profit, all volunteer operated galleries, the Village Gallery of Arts, which was established in 1963.
Hosted by Sharon Dunham (glass artist) and Debbie Teeter (multimedia artist and art educator), this event allows you to experience local artists' work in a gallery setting, discover classes for all levels of artists, and find out how this cohort of artists gives back to the community.
We invite artists of all ages to join us to share their art modality, exchange opportunities and learn something new about each other and our amazing artist network in Washington County.
You may discuss topics ranging from your favorite art modality, local opportunities, and how to stay connected during these hybrid times and more. Each networking event begins with an opportunity to introduce yourself and your work. Then we'll explore engaging, timely discussion questions brought by the co-host(s). You'll have a chance to meet local peers in your discipline to exchange ideas, ask questions, and build connections.
Donations are welcome at tvcreates.org. Register at tvcreates.org/networking.
Sunset HS marching band can & bottle drive
Saturday, September 11, 10 am-1 pm, at the old Bales Thriftway parking lot, 12847 NW Cornell Rd.
Please drop your donations off at the curb—the next event will be on October 1 (one week early). You can reach us at samba@sambanote.org with any questions. Thank you!
And, save the date—the 32nd Annual Sunset Classic Band Competition is on Saturday, October 16th at Sunset High School!
Beaverton Welcoming Week is September 10-19
National Welcoming Week is back with a series of events designed to bring together immigrants, refugees, and U.S.-born residents to raise awareness of the benefits of welcoming everyone. The week's activities celebrate the contributions of newcomers and provides opportunities to build cross-cultural relationships and understanding.
The 2021 Beaverton Welcoming Week's theme is "Belonging Begins with Us." It will be held alongside events in communities across the country and as part of the broader citywide Welcoming Beaverton initiative.
Learn more about the events and check out the current listing of activities at the Beaverton Welcoming Week website.
Fall Festivals
Sunday, September 12, 4 pm, Beaverton City Library, 12375 SW 5th St.
Journey back through time with the Beaverton Civic Theatre's theatrical viewing of China's Moon Festival, Germany's Oktoberfest, India's Diwali Festival and Mexico's Day of the Dead.
Ethiopian Cooking Class
Tuesday, September 14, 6-8:30 pm, virtual, visit page for link
Learn to cook traditional Ethiopian dishes as you listen to their history with Eleni's Kitchen.
Cultures of North Macedonia
Wednesday, September 15, 6-8 pm, Beaverton City Library, 12375 SW 5th St.
Maria Muta Petrova hosts a showing of "Honeyland," a film illustrating tales of struggle, persistence, change, and the impact of honey production on Macedonian culture.
Sharing Bread & Salt: Welcoming the World to Our Table
Friday, September 17, 6-8 pm, BG Food Cartel Indoor Dining Area, 4250 SW Rose Biggi Ave.
Join Naskah Zada and other local restaurant owners of color over sample appetizers to build camaraderie and exchange culture in a socially distanced but engaged forum.
Cultural Dances Around Beaverton
Saturday, September 18, noon-3 pm, BG Food Cartel, 4250 SW Rose Biggi Ave.
Learn traditional dances from Tahiti, India, Egypt, and so much more with instructors from Global Art of Dance.
Red Mud & Rain: A Safari of the Heart
Sunday, September 19, 2-5 pm, Beaverton Community Center, 12350 SW 5th St.
Explore how to write your own story of resilience while listening to readings that highlight the immigrant experience with published author and founder of Writing4Life, Wambui Machua.
Inside WashCo Radio
Shows are released on the website and to subscribers on Mondays. This schedule is subject to change—look for us on social media!
Week of:
September 6: Police Reform—from the Police Point of View
September 13: Encore show—Youth Homelessness
September 20: Back to School in Challenging Times
September 27: Women in Politics
October 4: Water in Washington County—Past and Future
DAVS Seeking Passionate Volunteers
Disability, Aging and Veteran Services (DAVS) is seeking passionate volunteers to serve in a variety of positions. Our volunteers are specially trained and receive hands-on support to ensure a worthwhile experience. Depending on the role, volunteers can provide direct service or work behind the scenes to guide our programs.
Read more about some of our current volunteer opportunities below and apply!
Apply Now for WashCO DAVS Advisory Committee
Advisory Council members advocate for system level changes, provide advice to DAVS regarding policies and programs, and connect with the broader community to understand the issues and priorities of Disability, Aging and Veteran Services (DAVS) focus populations.
The Advisory Council meets a minimum of four times a year on the third Thursday, 9-11 am at Washington County Disability, Aging and Veteran Services office in Hillsboro and by Zoom. Meetings are open to the public and participation is welcomed.
Washington County is deeply committed to racial equity, inclusion, and representation on our advisory councils. We are striving to fill the majority of the 19-member AVSAC with people who identify with one or more of these priority groups: committed to racial equity; veterans;
living with disabilities and are 18+; consumers or caregivers of people who have used DAVS services; 50+ or elders as defined by their community; Black, Indigenous, and People of Color; LGBTQ+ people; immigrants and refugees.
In addition, members must be residents of Washington County, or people who work or otherwise serve older adults, people with disabilities, and veterans in Washington County. Apply today!
Become a Certified Senior Health Insurance Benefits Assistance (SHIBA) Counselor
If you enjoy learning new things and want to volunteer in a program that makes a huge difference in the lives of others, consider becoming a certified Senior Health Insurance Benefits Assistance (SHIBA) counselor. SHIBA counselors are trained in Medicare and provide counseling to individuals who are Medicare eligible. Our counselors help beneficiaries choose the plan that is right for them, help them understand changes that happen every year to prescription drug plans, and assist in filing Medicare appeals. As a SHIBA counselor, you can help someone save hundreds of dollars a year in premium and prescription costs—being a trained Medicare specialist is a way to give back to your community.
The training for this volunteer position is extensive, allowing you to feel confident in counseling others about their Medicare benefits. Our program does not have a minimum number of hours required for volunteering each week, and we are flexible when you have other life commitments (such as vacations or family events).
To learn more, contact Bobbie Hoke at HHSDAVSinfo@co.washington.or.us.
ACMA PTO Fundraising at Red Robin
Tuesday, September 14, 5-9 pm, take-out only, 4105 SW 117th Avenue, Beaverton
ACMA PTO supports Beaverton School District Arts & Communication Magnet Academy school, student, and faculty programs. 20% of the orders placed correctly will be donated to ACMA PTO.
Curbside pickup is available. Visit order.redrobin.com and select the 4105 SW 117th Ave restaurant. Click on "Fundraisers" tab and add a fundraiser to your order. Add ACMA PTO to the Special Instructions. Select your items and check out. Please do not use delivery services such as Doordash, GrubHub or UberEats websites for orders.
Pull into a designated curbside spot at Red Robin, call the phone number on the sign. Red Robin will bring out your order! Thank you for your support of ACMA!