Japanese Beetle eradication update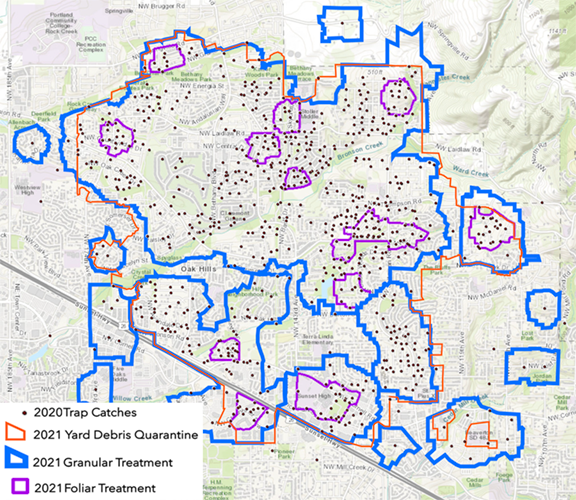 By Ashley Toland, Oregon Department of Agriculture
The Japanese beetle (Popillia japonica) is a serious invasive insect pest that threatens Oregon and the western United States. The largest infestation of Japanese beetles ever found in the state was detected in 2016 around Cedar Mill, Bonny Slope, Oak Hills, and Bethany. This invasive pest can be destructive in multiple life stages. Adults eat foliage and flowers; grubs eat the roots of lawns.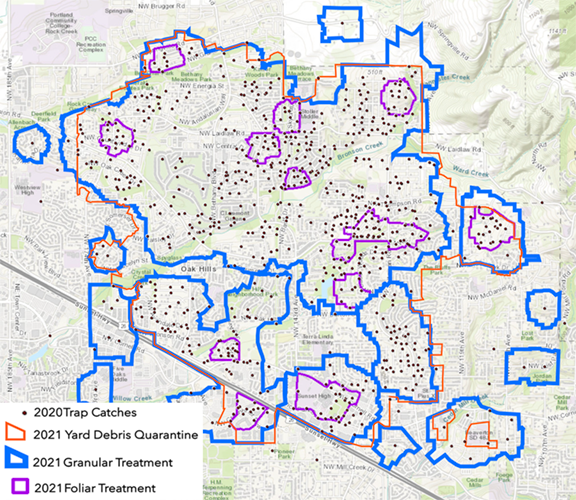 If the beetle were to become widely established in the state, residents and farmers would see severe damage to over 300 plant species, requiring increased use of pesticides to maintain our way of life. Acting on the state policy to eradicate invasive Japanese beetles before breeding populations can establish and with support from the local community and municipalities, the Oregon Department of Agriculture (ODA) has embarked on a multi-year eradication project to protect Oregon's agricultural economy and natural ecosystems.
2021 marked the fifth year of treatment for the ongoing Japanese beetle eradication. This Spring, the Oregon Department of Agriculture (ODA) expanded the treatment area in multiple locations, including northeast Portland. ODA treated over 12,000 properties with Acelepryn G. The public is still overwhelmingly in favor of the project, but administrative warrants were served to those who did not respond after several attempts to gain consent. The treatment is highly specific to the pest and doesn't harm pollinators or other beneficial insects.
In June and July, ODA treated areas with high beetle density (within 200 meters of a trap that caught 40+ beetles) with a supplementary foliar (sprayed on the leaves) treatment (Acelepryn) that targets adult beetles. ODA treated over 850 properties with the supplementary treatment.
The Japanese beetle yard debris quarantine resumed on June 1. Large landscaper or residential loads are being brought to Best Buy in Town landscape supply before being transported for deep burial at Hillsboro landfill. Small residential loads can go in curbside yard debris bins as usual and are also being redirected to Hillsboro landfill. The site will close for the season on October 1, 2021. If you use a landscape service, make sure they are dumping the material correctly.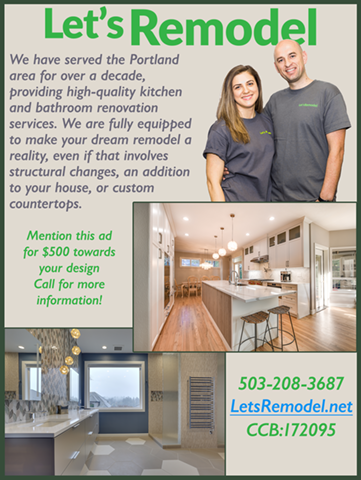 In 2020, we trapped 4,490 Japanese beetles in total; 4,218 in the main eradication area. The overall number of beetles trapped in 2020 was down 42% from the previous year. There was a 58% reduction in the number of beetles trapped within our 2019 treatment boundary as a result of the 2019 granular and 2020 foliar treatments. The area saw a 67% decrease within the boundaries of the supplementary foliar treatment. ODA plans to continue treatment in 2022 and will announce the new treatment boundary in Fall 2021.