Featured Business September 2021: The Ackerly at Timberland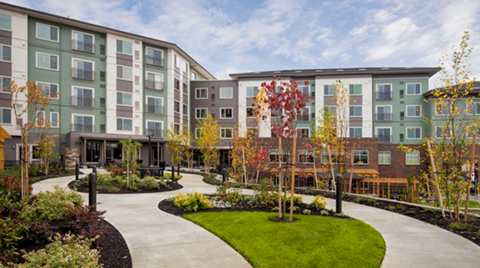 Virginia Bruce with Katie Smith, Ackerly Sales Manager
When did the Ackerly at Timberland open?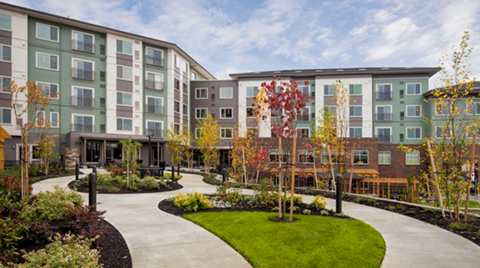 Technically September 1st, 2016. We had a "soft opening" on August 15th, where the eager occupants of seven apartments moved in a bit early and helped us work out the kinks before the big opening. The first night someone stayed in our community, it was just that resident and one staff member. It must have been a big, lonely building that night. The second night, two more people moved in, and we started our journey to filling up the building with residents, staff, love, family, community, and fun.
Describe the variety of living spaces available?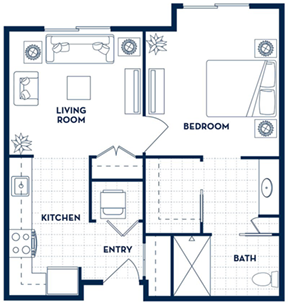 There are studios, one-bedroom, and two-bedroom apartment homes in Independent Living and Assisted Living. We offer private studios and companion suites in Opal, our secure memory care neighborhood.
One thing that sets us apart from many of our competitors is that our assisted living apartment homes have full kitchens (full sized fridge, stove/oven, microwave and plenty of counter and cupboards). All one-bedroom and two-bedroom apartment homes also have washer/dryer in unit. That is extremely rare in Assisted Living. Our units have upgrades like quartz counter tops, tile backsplash, and stainless-steel appliances.
What is the age range of residents?
Currently, we have residents that are spanning from 65 years young to 103 years young. The average age in Independent Living is 75-80, Assisted Living is 85-90.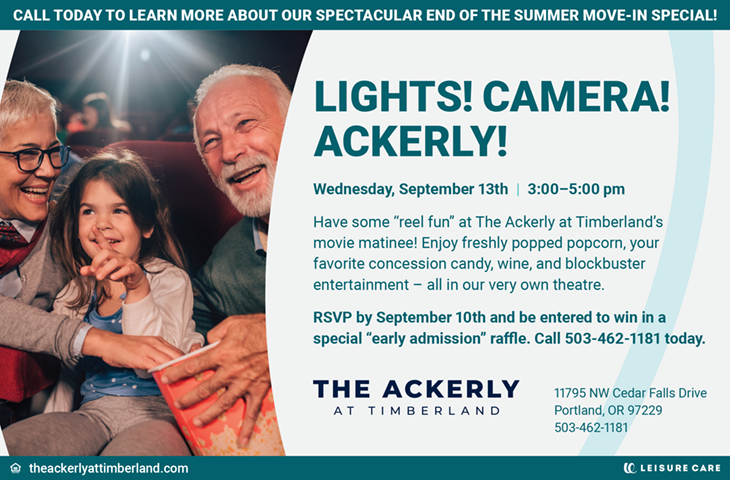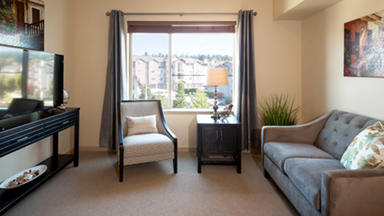 We offer a month-to-month rental agreement. A large portion of our original residents are still living at the community. We've truly become a family and a tight knit community.
Do people have options around meals, in terms of what they pay for?
Our meal plan is quite flexible. Of course, you have a full kitchen you can cook in. Should you decide to let us cook for you, your Independent Living meal plan includes breakfast and your choice of lunch or dinner, an average of two meals per day. Assisted Living and Opal include all three meals.
What services are offered in the Assisted Living section? Are there various "menus" of service?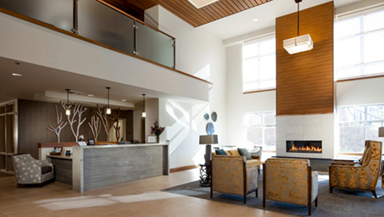 There is a wide range of services offered at The Ackerly at Timberland. A resident's care needs are determined by an assessment of your individual needs and preferences by the care team. Our care team will also assess on a regular basis and services are adjusted to meet your specific needs and preferences. These include medication assistance, showering and bathing, dressing, personal appearance and hygiene, care coordination, mobility assistance, health maintenance, cognitive support, and more.
It's just that we deliver it all with the utmost care, making sure you are comfortable and getting precisely what you want as service needs grow or diminish. Our services are that flexible—easily added or scaled back as you desire.
There is a licensed nurse on staff to direct and oversee the care team, and staff is available 24/7.
What services are offered in the Memory Care section? What's a dementia-friendly menu?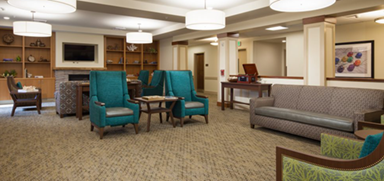 The care is like Assisted Living. The way it's delivered is different because of the dementia component. Residents of Opal often have unique health challenges, such as vision impairment that means we approach a person differently. The menu may include more finger foods, as residents have a hard time with utensils.
Any new offerings or features that aren't on the website?
Rent also includes scheduled transportation, social and recreational programs, use of activity areas, routine apartment maintenance, and all utilities except telephone. Assisted living services are added on to the monthly rent as needed.
What are some of the recent events, and any that are planned coming up
We recently celebrated our five-year anniversary with a Luau themed outdoor party. We had five performances with hula dancers and Hawaiian singers. Our Executive Chef provided authentic Hawaiian cuisine. It was open to our residents and their guests and also community members.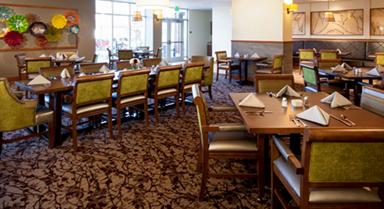 As the season turns, we'll start preparing for the holidays, which means plenty more opportunities to join The Ackerly at Timberland for some holiday cheer. Watch the Cedar Mill News for upcoming events. RSVPs are always welcome!
Anything else that you want us to know about…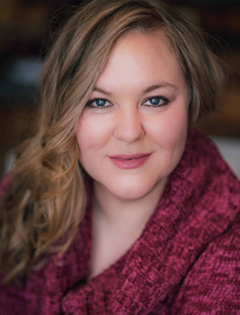 Leisure Care is a leader in the senior housing industry, coming up on 50 years of experience. It's the best of both worlds, in that the company is privately held, the home office is in Seattle with local representation, so they are close enough to be heavily involved in the day to day.
We are still conducting in person tours, so you can come and see what our wonderful residents' amazing lives are like. Call 503-350-3400 to set up a tour. Or if you want a preview, here's our video Virtual Tour.